Evidence-based strategies to enhance development in South Asia
November 28
–
November 30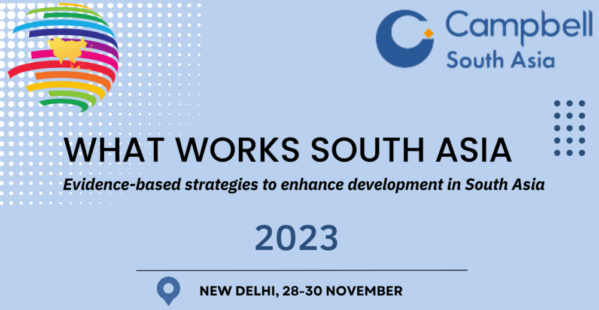 Campbell South Asia is supporting the evidence revolution in South Asia. The conference's objective is to advance the comprehension and application of evidence-based approaches to enhance the development of South Asia. Evidence helps decision-makers follow effective strategies, leading to the implementation of better policies for social and economic growth. Evidence synthesis offers a succinct overview of the existing evidence.
WWSA is a platform for scholars, experts, and policymakers to explore methodologies, innovations, research gaps, and other subjects in evidence synthesis for development, with a specific emphasis on the challenges faced by low- and middle-income countries.
OBJECTIVE
The conference aims to unite a diverse group of stakeholders from various disciplines, including students, academics, researchers, evaluators, and policy-makers.
The objectives of the event are to:
Bring together stakeholders from diverse disciplines such as students, academics, researchers, evaluators, and policy-makers
Encourage discussions on research that is effective in South Asia and relevant for policy synthesis
Highlight the importance of evidence in decision-making and its role in the process
Communicate the significance of evidence-based decision-making to policy-makers and the wider audience in South Asia
Promote the formation of partnerships with governments to support evidence-based decision-making.
CONFERENCE THEMES:
The conference will delve into crucial themes that play a significant role in advancing evidence-based policymaking and research. These include innovative research methods, evidence synthesis, capacity building, and knowledge translation. Here are the themes that the conference will explore:
Evidence in a time of crisis
Equality, equity, and development
Climate change, biodiversity and conservation
Agriculture and development
Financing the SDGs
Water, Sanitation and Hygiene (WASH)
Health systems and technology
Learning outcomes for development
Research use at local and global levels
Methods for evidence synthesis
CALL FOR ABSTRACTS
The call for abstracts is now open and the following categories have been invited for submissions:
Panel presentations
Individual presentations
Poster presentations.
Our conference theme is "evidence-based strategies to enhance development in South Asia", and we welcome abstracts from a wide range of disciplines and perspectives related to this theme. We encourage you to submit your latest research findings, innovative projects, and thought-provoking ideas.
The conference brochure is now available, providing an overview of the conference themes. We encourage all interested researchers to submit their abstracts and join us in this exciting opportunity to share knowledge and connect with fellow professionals.
To submit an abstract, click here to access the submission form. The deadline for submissions is 30 September 2023, and we encourage you to submit early to secure your spot.
Submission deadline is 30 September 2023
Selected abstracts will be notified by 10th October 2023
Download the conference brochure
REGISTRATION
We have included detailed information on conference registration to ensure that participants are fully informed. Our goal is to provide a high-quality conference experience while keeping the registration fees reasonable. We encourage participants to take advantage of the early bird discounts and register early to secure their spot at the conference.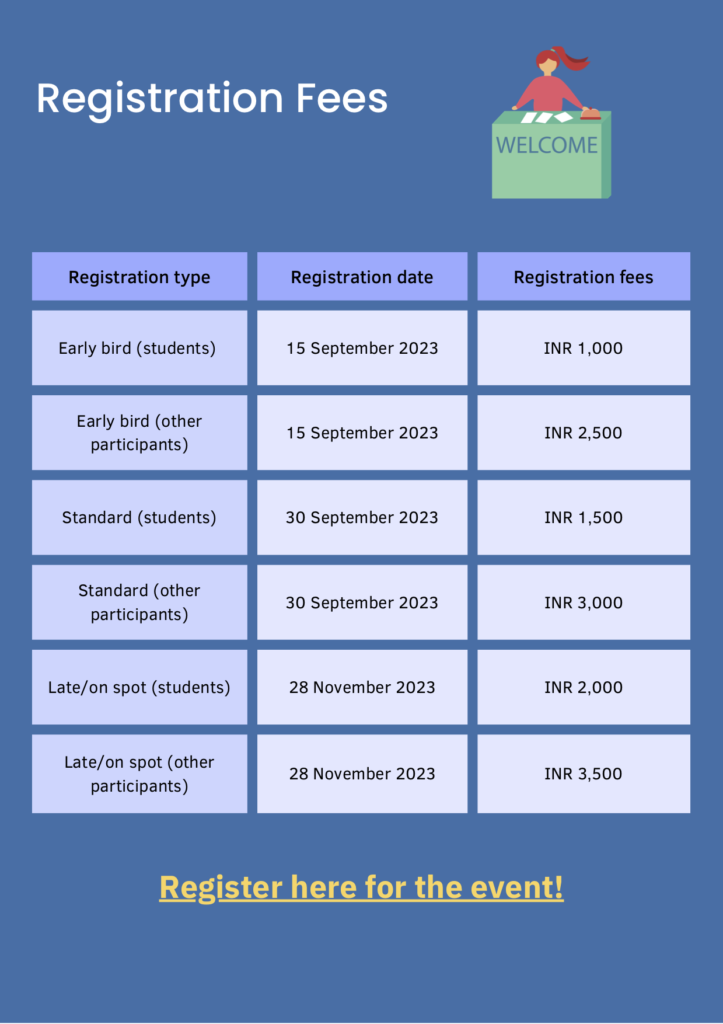 Registration for WWSA2023 is now officially open! Don't miss this exciting opportunity to expand your knowledge and network with fellow enthusiasts. Secure your spot today.
SPONSORSHIP

Conference sponsorship plays a crucial role in helping us provide an exceptional experience. We welcome sponsors who share our vision of promoting evidence-based policymaking and research. Our sponsors will have the opportunity to showcase their work to a diverse group of stakeholders, build new partnerships, and engage with participants from various disciplines. Additionally, sponsors will receive recognition for their contribution through various channels, including the conference website, social media, and printed materials.
There are different ways for organizations to support the conference, including:
Providing direct financial support to the conference secretariat to facilitate the organization of the Conference.
Convening side events or breakout sessions linked to the overall conference theme and sub-themes.
Participating in the conference as an exhibitor to showcase your institution's activities.
Sponsoring high-level speakers and technical experts to address the event.
The following are the types of sponsorships available: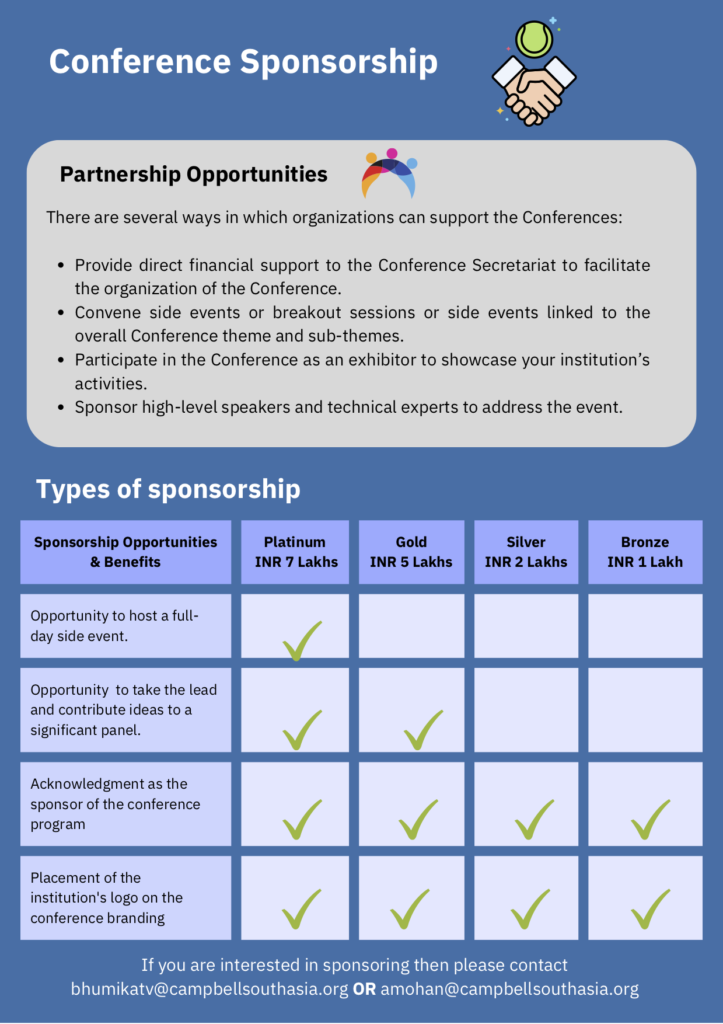 We invite interested organizations to contact us for more information on sponsorship opportunities.
Why You Should Attend Our Conference
WWSA offers a unique opportunity to engage in panel discussions and attend keynote talks by regional and national experts. It's a chance to connect, network, and interact with research communities across South Asia while gaining insights into the latest research findings and innovative methods.
Our workshops on capacity building in evidence synthesis will equip you with the tools and knowledge to effectively synthesize evidence and translate it into policy and practice. Additionally, the conference provides a platform for you to discuss various research methodologies, challenges, and the use of evidence in different contexts.
By participating in our conference, you'll be able to broaden your knowledge, exchange ideas, and gain valuable insights into evidence-based policymaking and research. Don't miss out on this unique opportunity to connect with experts and peers in the field!
For more information, please contact: E-mail: southasia@campbellsouthasia.org
WORKSHOP ANNOUNCEMENT
We plan to host three concurrent workshops that will run alongside the WWSA conference. These expert-led sessions will help participants learn practical skills and garner opportunities for networking.
Workshop Lineup:
1. Qualitative Evidence Synthesis | 28th November, 1-2 PM (IST): This workshop will explore the methodologies and techniques involved in synthesizing qualitative evidence to inform policies and practices effectively.
2. Effect Size Calculation in Systematic Reviews | 28th November, 2-3 PM (IST): Participants will gain insights into comprehending and extracting effect sizes, vital for evidence-based decision-making.
3. Translating Research to Policy | 29th November, 2-3 PM (IST): This workshop will delve into the crucial process of translating research findings into actionable policy recommendations.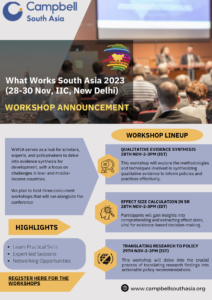 Register here for the workshops. Download the flyer here.